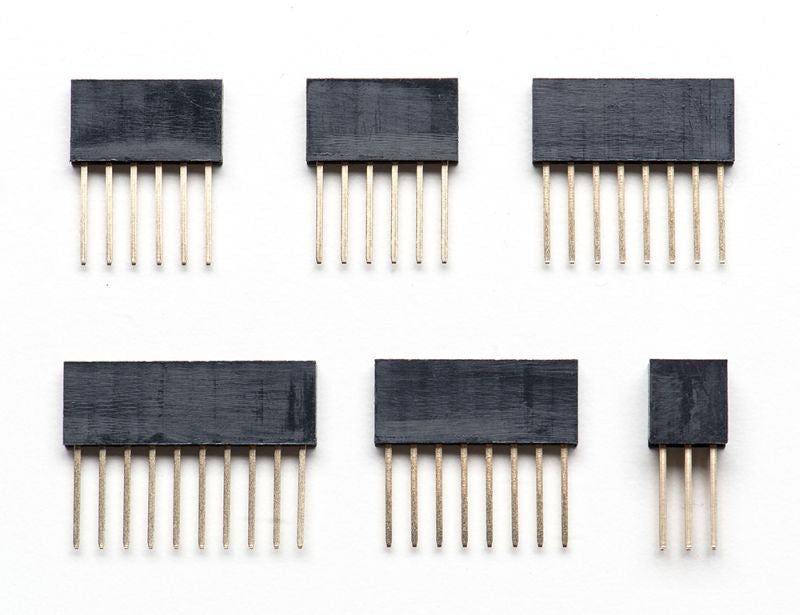 Shield stacking headers for Arduino (R3 Compatible)
Sale price
Regular price
£1.65
(inc VAT)
Stock: 120
Use these to stack shields on your Arduino! These are standard 6-pin, 8-pin and 10-pin 0.1" spacing female headers...with a twist! The pins are extra long which means you can use these to stack shields! The legs are 10.5mm (0.42") long, so after the PCB thickness (1.7mm/0.07") you have a height of 8.8mm (0.35").
Comes in a package of one 2x3-pin header, 2 x 8-pin headers, 2 x 6-pin headers and 1 x 10-pin header for full compatibility with shields designed for Arduino R3 & Leonardo
.
Please note, not all shields use the 10-pin connector or 2x3 connector stacking header. For shields that do not use the 10-pin header, use the 2x6 and 2x8 headers.
Some experimentation might be necessary. Some examples:
You can stack on top of a Proto Shield, but not if there is a breadboard on it
You can stack on top of a Motor Shield, make sure you bend the electrolytic capacitors before you solder them in, so that they lay flat against the PCB
You can stack on top of a Wave, NFC/RFID, or GPS shield with no problems
You can stack on top of an Ethernet shield, but you'll need two sets of headers to clear the Ethernet jack.
---
More from this collection