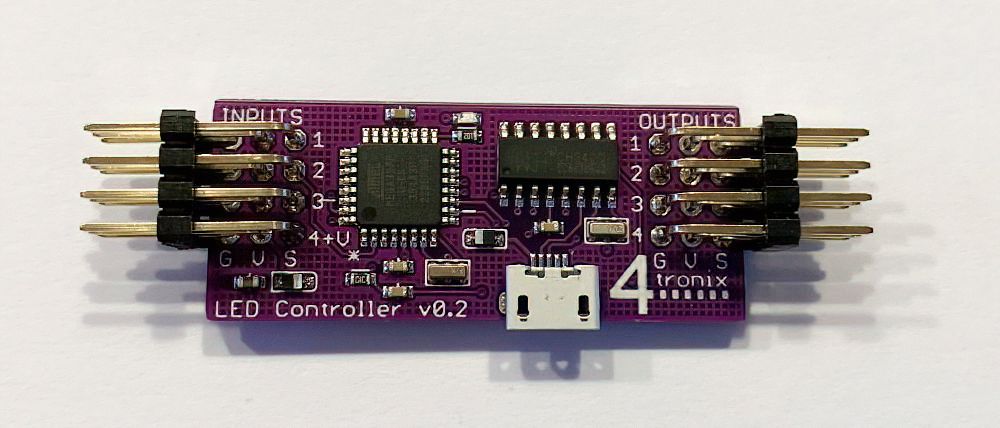 LED Controller 4 Channel - Programmable
Only 2 left!
LED Controller - Four Channel

This little unit is designed to directly drive a small number of addressable LEDs, such as our EDF LED Rings. Power is provided directly from the receiver, and therefore from the ESC/BEC, so the maximum number of LEDs is determined by the power capability of your ESC/BEC. It can also drive LEDs (or other devices) on 3 other channels.

Note that power for the controller and power for the outputs is only provided from input 4. If you only want a simple single channel with low current usage, then use Input 4 directly from the receiver
Plug the input(s) into your receiver (via a Y-Lead if also using that channel for other functions) and connect the output(s) directly to the EDF tailpipe LED ring, wing tip LEDs, landing LEDs, or other devices

The default firmware will pulse the LEDs Red while the throttle is off, then gradually rotate the LEDs faster and faster as the throttle is increased, whilst also changing the colour from Red, through to a bright Orange. The code is easily modified and open source.
These are fully programmable using the Arduino IDE by using a micro USB cable (not supplied)

Specification
Operating Voltage: 3.5 - 5.5V
Dimensions: 43.5 x 18 mm
Weight: 6g
In the Package
LED Controller 4ch PCB fully populated and programmed
Short servo female-female cable to connect to receiver
Related Products

Long servo cable Female-Female to connect from controller to LED ring

EDF LED Rings
---
More from this collection